Regular price
Sale price
$40.98
Unit price
per
Sale
Sold out
Hassle-Free Returns
Bundle includes Treasure Diver & Submarings in one purchase! 
Includes: Clawsome Diver, 6 treasures to retrieve: Shark's Jaws, Pirate Sword, Cannon, Roman Jar, Anchor and the Titanic's ship wheel! Also includes container, diver retrieving tool, decorative gravel and color instructions. Just add water and play!
Squeeze, dive, and retrieve the sunken treasures in this fun and challenging game. Squeeze the container to magically move your diver up and down and open the powerful retrieving claws to grab each treasure. Can you get them all? And how fast?
So many fun ways to play! Play solo to practice perfecting your diving and retrieving skills or challenge your friends and family to an exciting series of games. Never need a battery.
7 games to play! Claw Master, Claw Master Expert and Claw Master Commander are the perfect training to prepare you to challenge your friends to a Battle of the Claws, Catch & Release or Ticking Clock, and eventually the ultimate battle - My Game, My Way.
Combining the Principles of Physics and their real-life applications, Clawsome lays the foundation for young minds to excel at STEM. STEM authenticated by STEM org. 
Includes: 21 gold, silver and bronze colored-rings, a crystal-clear water tank, and 4 interchangeable plastic panels featuring fun deep-sea scenes! Also includes color instructions. No batteries. No Wi-Fi. No Problem!

Engaging and Entertaining! Help Poseidon, God of the sea in Greek mythology, recover his powerful rings from the bottom of the ocean!
Play on your own or with a friend! Submarings includes two buttons for dual-action control or to allow for two players at once
Just add water and play! Recover all the Submarings using fluid dynamics! This challenging game is endless fun as you try to get all the rings on the pegs through the power of water! And, can you add the same color rings on each peg?
In Greek mythology, Poseidon was the god of the sea. Poseidon possessed many awesome powers and was the guardian of vast riches in the deepest waters of the ocean. Among the most prized treasures were the powerful Rings of Poseidon, which were scattered throughout the world's oceans long ago after this ill-tempered god's epic battle against the legendary hero, Odysseus. Take your Submarings journey to 4 different dive locations and help recover the mythical Rings of Poseidon!
This fun game works by using a very cool principle of science called "Bernoulli's Principle," which is related to fluid dynamics, or the movement of fluid. In the case of this game, the fluid used is water.
When you push the buttons on the base, the force from your finger creates water pressure within the tank which is proportional to how hard you press the buttons (pressure = force/area). The pressure pushes on the water molecules and gives them speed to move (kinetic energy). As the water molecules move, they are forced through a narrow nozzle into the tank, which causes them to move even faster as there is less space for the molecules to pass through.
Therefore, the harder you push the button, the faster the rings will move! Pretty cool. huh? Watch the path of the rings to give you an indication of what's happening with the water. With enough practice, you'll know how much pressure to apply to get the rings on the pegs!
When filling with water, remove the white rubber cap completely to avoid overflow and spilling water into the base.
View full details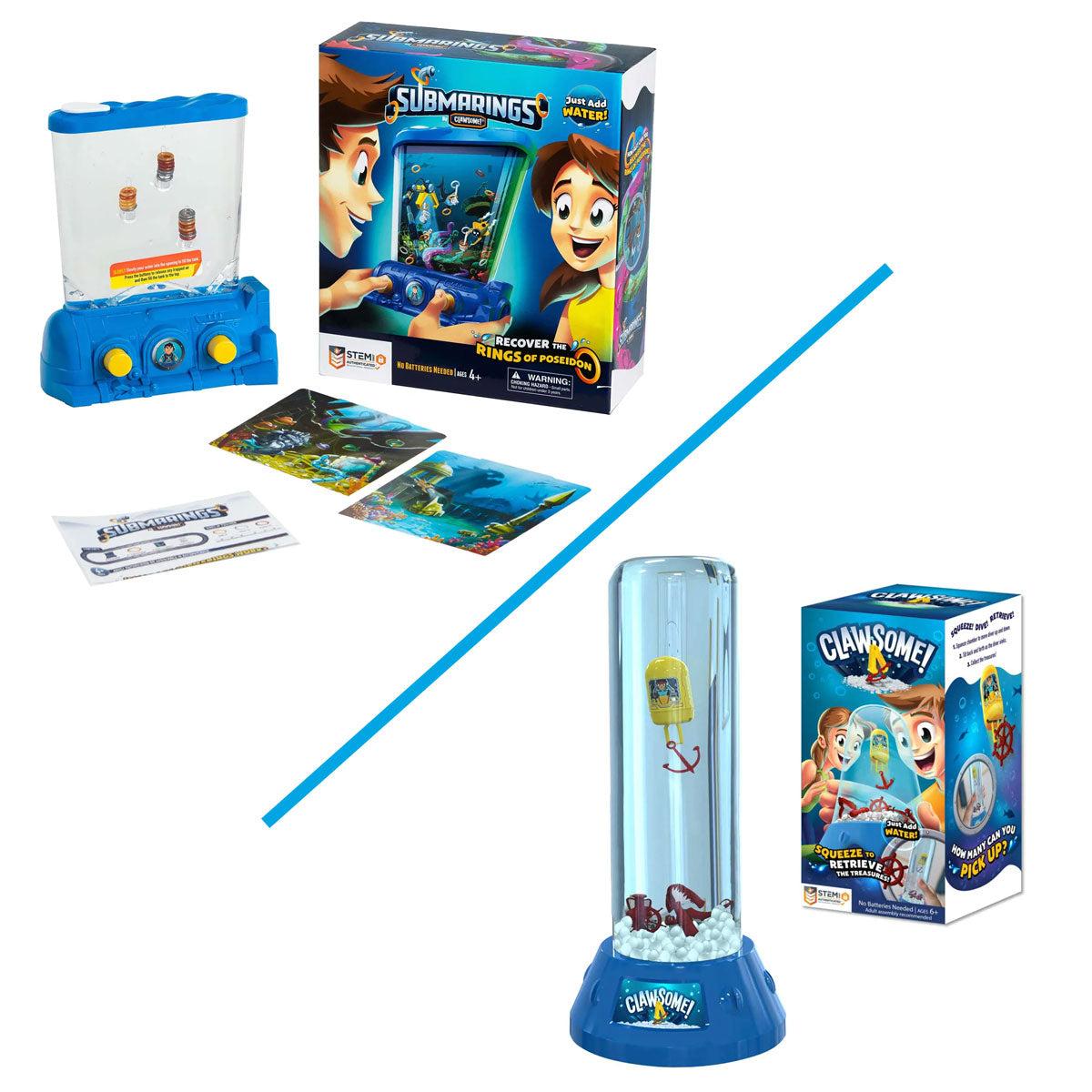 Hassle-Free Returns
Refund & Return Policy
At Luki Lab, we value your satisfaction. If you are not fully satisfied for any reason with our product, you may return your purchase in its original condition and packaging for a refund within 30 days of receipt.
Returns Process
To initiate a return, please submit a message describing the nature of your request on our contact form. Once the request has been received and accepted, Luki Lab will provide you with an RMA (Return Merchandise Authorization) number, which will need to be placed on the outside of the package you're shipping the product in. Return requests will be processed within 2 business days.
Please note:
No return will be accepted without an RMA number. 
We may request pictures or additional information to satisfy your request. 
If you have requested a refund, be advised that returning funds may take 7-10 business days to appear in the account used to make the purchase.
Return Shipping Costs
Luki Lab will provide a prepaid return shipping label in cases where orders have arrived in damaged condition or are confirmed by a company representative to be inaccurate. We may request pictures or additional information to satisfy your request. 
For all other cases, return shipping costs are the responsibility of the customer. Luki Lab will not reimburse or provide credit for return shipping costs incurred by the customer. If a product is damaged or defective, the recipient must arrange with customer service for return shipping prior to placing the items back in transit to Luki Lab.
Ship return packages (with your RMA# on the outside) to:
Luki Lab Returns
28 Executive Park, Suite #200
Irvine, CA 92614
Click here to contact us and initiate your return.
We look forward to hearing from you. Thank you for shopping with Luki Lab!
Get to know Luki Lab!
Free Shipping on Everything

Order less than $50? Get FREE Standard Shipping! Order over $50? Get FREE FAST Shipping! Either way, you win. 🏆

Hassle-Free Returns

Don't like it? Send it back! We'll refund you for the item and you can move on with your day. 😊 More info.